Are you looking for a reliable mobility solution that will enable you to remain independent and explore the world with ease? 
Look no further than the EV Rider Transport AF+! 
This electric scooter was designed specifically with those who have mobility challenges in mind – it provides a secure and comfortable ride, allowing its riders to confidently face their daily activities without hassle. 
What immediately catches your eye right away is its sleek design. And here's a fun fact: EV Rider has been around for over 30 years and knows a thing or two about making quality products. 
The Transport AF+ scooter is a shining example of their expertise. 
And the best part? You can choose from a cool range of colors like blue, copper, red, or silver.
In this review article, we'll take an in-depth look at the features of the EV Rider Transport AF+, giving you all of the info you need to decide if it's right for your needs. 
We will also share with you multiple testimonials from our customers who have purchased the EV Rider Transport AF+
So read on and discover why this awesome electric scooter is quickly becoming one of our top recommendations!
Auto Folding Mobility Scooter
Introducing the EV Rider Transport AF+ - a lightweight and foldable mobility scooter that's perfect for travel. With a remote control folding feature, one of the lightest designs on the market, an electromagnetic braking system, easy-to-use controls, and durable flat-free tires, this scooter offers convenience, freedom, and worry-free rides.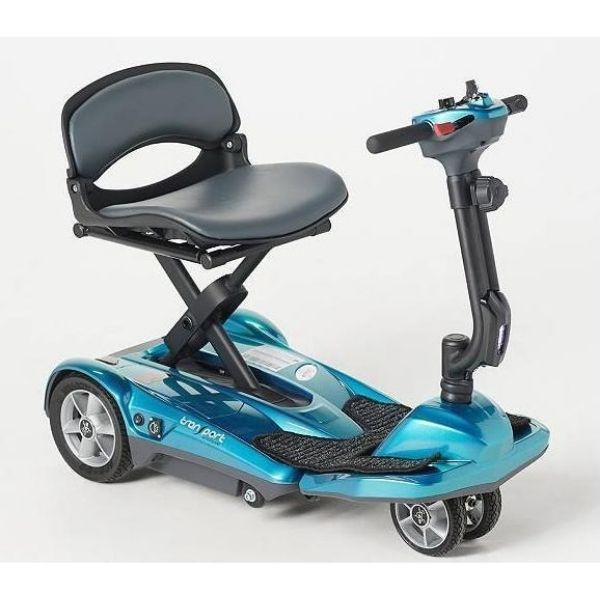 | | |
| --- | --- |
| Length | 33.8" |
| Wide | 16.5" |
| Overall Height | 32.8" |
| Turning Radius | 31" |
| Seat Height | 20" |
| Wheelbase | 25" |
| Ground Clearance | 1.4" |
| Overall Dimensions | 33.8" x 16.5" x 32.8" |
| Folded Dimensions | 28.7" x 17.3" x 16.5" |
Exclusive Offer!
Get 20% Off + Free Cup Holder
Are you tired of struggling with heavy mobility scooters? Do you dream of a lightweight and travel-friendly option? Look no further!
This amazing mobility scooter is foldable, making it easy to take with you anywhere - whether it's in your car, on a cruise ship, or even on an airplane!
Plus, it's equipped with an airline approved battery, so you'll never have to worry about restrictions. Say goodbye to heavy scooters and hello to convenience and freedom with the EV Rider Transport AF+.
Remote Control Folding Feature
You heard it right! The Transport AF+ can be folded and unfolded with just the push of a button in a matter of seconds.
While there are some folding mobility scooters out there, how many of them can fold and unfold without you even having to touch it? Not many. That's what makes this mobility scooter truly superior.
If you're dealing with an injury that limits your strength, folding or traveling with your mobility scooter can be a real challenge. That's where our automatic folding scooters come in handy.
They're designed to be folded into a more compact shape, making it easier for you to put your scooter in your vehicle or store it away. With the Transport AF+, you'll experience the convenience and simplicity you've been looking for.
No more struggling or straining - just effortless folding and unfolding at the touch of a button.
One Of The Lightest Units You Can Find On The Market
This scooter weighs only 44 lbs, including the battery. It's designed to be super portable, making it one of the lightest options available.
With a lithium battery and a reinforced frame, EV Rider has made a mobility scooter that's easy to carry with just one arm.
And unlike other folding mobility scooters, it can fit in the trunk of most cars with extra space to spare. So you can take it anywhere and store it just about anywhere too!
Electromagnetic Braking System
Did you know that electromagnetic brakes are one of the safest braking systems out there? Here's how it works: when you release the throttle, the brakes instantly engage and bring you to a controlled stop.
It's like a slow dance from speed to a gentle and efficient stop. So, you can ride with peace of mind, knowing that your stopping power is both smooth and secure.
Easy To Use Controls
With its lever controls, accelerating has never been easier. Just pull the red lever towards you to go forward, or pull the black lever towards you to reverse.
It's as simple as that! But that's not all - located between the levers is a handy switch to control your headlight and tail lights. And right below that, you'll find the LED battery indicator, so you always know how much power you have left.
What makes the Transport AF+ Deluxe truly special is its central location of all these controls.
This means it's perfect for anyone with arm or wrist problems. Plus, if you really had to, you could even operate it with just one hand. It's that easy!
Durable Flat-Free Tires
Are you tired of constantly worrying about your mobility scooter's tires going flat? With this amazing scooter, you can say goodbye to that stress!
The tires on this model are flat-free and don't need any air. Plus, the front tire is slightly bigger than the back ones, making it a breeze to navigate rough surfaces.
And let's not forget about its excellent maneuverability - with sharp turns being a breeze! Say hello to worry-free rides with this fantastic mobility scooter.
Conclusion
In conclusion, living life with limited mobility doesn't have to be the norm. The EV Rider Transport AF+ electric scooter allows people with physical limitations to break free from their constraints and reclaim the independence they may have lost. 
Whether you're looking for a fun ride around the neighborhood or an efficient transportation option as you do your daily errands, this scooter won't disappoint. 
With its sleek design, long battery life, and range of colors to choose from, it's sure to get people talking! 
Plus with financing options available, there was never an easier way to buy what you want today and pay later. 
So go ahead and take control of your life – check out the product page now and learn more about the awesome financing options available. Make the switch today – you deserve it!
Shop EV Rider Transport AF+ Now
Can I Pay For My Transport AF+ On A Monthly Payment Plan?
Yes you can!
Besides offering our lowest price guarantee, because of our partnership with Klarna, we're able to offer you low monthly payments on your brand new mobility scooter!
Many of our customers even qualify for a 0% interest rate on their loans!
To pre-qualify, when you go to a product page (like the Transport AF+ above), at the top of the page, you will find a box marked as "Klarna"... there you will be able to go through the process of pre-qualifying for their monthly payment plan.
Or, if you prefer to speak to our team of mobility experts and have them help you through the entire process, then give us a call toll-free at: 800-682-9444
So don't hesitate any longer! 
Give yourself the gift of mobility and become an active member of your community again - get your own electric scooter today!