Are you or a loved one facing mobility struggles? 
Finding the right electric wheelchair can significantly improve comfort and quality of life. Among the top wheelchairs available are Hoveround and Jazzy (from Pride Mobility), but which one is the better fit for your needs? 
Both brands have left a lasting impact in the industry. But which one suits you best? In this extensive article, we'll closely examine the advantages and disadvantages of each brand, helping you make an informed decision that aligns with your lifestyle. 
We'll also compare these two options together. 
So, if you are not sure which brand of electric wheelchair is right for you… then join us as we delve into the details!
Let's get started!
Hoveround vs Jazzy - Which One Is Better?
At a glance, these chairs look similar. They have the same kind of structure. Similar design principles. Similar features (like speed, weight capacity and more…).
But there are some differences when you look closer at each model and brand.
Jazzy chairs can be purchased from multiple places, and these businesses often offer additional bonuses when purchasing through their store. 

Most Jazzy chairs come with a headrest as default. Hoveround chairs, however, require an upgrade package to get a headrest installed to their chair… which does increase the price of the Hoveround.

There are a few Jazzy chairs designed for air travel, allowing you to fold the chair together and easily fit in the passenger cabin of the aircraft.They are airline approved as well, so there will be little to no issues with bringing them onboard or driving them through the terminal.

Hoveround offers in-home services when purchasing their chairs. So, you will get a more hands-on experience along with assistance when setting up your Hoveround power wheelchair.

Some Jazzy chairs have more robust front support wheels, allowing the chair to ride better over grass and gravel compared to a Hoveround chair.

Both chair families have the same joystick steering method, making it easy to learn how to drive any of these chairs. You won't have any issues no matter which chair you select.

The Jazzy Air 2 is a unique power wheelchair which allows you to lift up the seat, making it easier to reach higher places and stand up from your chair. So if you find it difficult to get up when sitting down, the Jazzy Air 2 might be a great option for you.

More variety of Jazzy models to choose from, allowing you to select the right type of chair for your daily needs.

Jazzy chairs tend to have a more stylish design whereas Hoveround chairs are more bulky in appearance.

Both companies have been around for almost 30 years, so they are not going anywhere.

Similar prices between compatible models.

You can only purchase a Hoveround through their company, limiting your options if you want to shop around for better deals.
While on the surface level, a Hoveround and Jazzy chair might look similar, there are subtle differences.
Next up, let's take a quick look at some of the top selling Hoveround and Jazzy electric wheelchairs.
Popular Hoveround Power Wheelchairs
Hoveround MPV5 Power Wheelchair
Introducing the Hoveround MPV5 - the ultimate power wheelchair that can handle any tight spot or narrow space in your home. With its innovative Round for a Reason design, the MPV5 power chair effortlessly glides around corners. But that's not all - you can also elevate your comfort with optional reclining seat upgrades. Enjoy a higher seat back and adjustable recline for maximum support.
Hoveround LX-5 Power Wheelchair
Looking for a power chair that can easily navigate tight corners and narrow spaces without leaving a scratch? Look no further than Hoveround's unique Round for a Reason design. The Hoveround LX-5 power chair is one of the most maneuverable options out there, making sure you get to where you want to go without any hassle. Whether you're indoors or outdoors, this chair will keep you safe and give you the freedom and independence you deserve.
XHD Heavy Duty Power Wheelchair
The ultimate heavy duty power wheelchair for those who need extra strength and comfort. With a whopping 450-pound weight capacity and a wider seat, this chair has got you covered. And don't worry about running out of juice - the 60 amp batteries will keep you going for longer.
But that's not all - this chair is built for traction with tandem rear tires, giving you increased stability and control. And if you want to take the comfort to the next level, Hoveround's optional reclining seat upgrade is here for you. With a higher seat back and adjustable recline, you can customize your comfort and support.
Most Popular Jazzy Power Wheelchairs
Jazzy EVO 614 Power Chair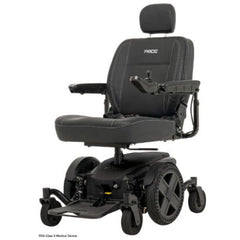 Experience the ultimate in mobility with the Jazzy EVO 614. Equipped with new 13.75-inch perforated center drive wheels, a 3" ground clearance, and a top speed of up to 4.4 mph, this power wheelchair is designed to take you on all of your adventures.
Say goodbye to the struggles of maneuvering through narrow spaces. With a compact 22-inch turning radius, the Jazzy EVO 614 effortlessly glides through tight turns indoors, as well as in your favorite shops and restaurants.
Jazzy EVO 613 Power Chair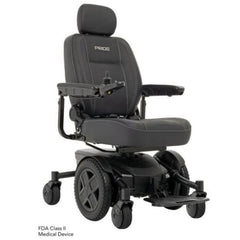 Introducing the Jazzy EVO 613 and Jazzy EVO 613Li - the power wheelchairs that combine power, maneuverability, and sleek design. With a narrow 22-inch width and a 22-inch turning radius, these wheelchairs offer impressive agility.
But the greatness doesn't stop there. The Jazzy EVO 613 series is equipped with Pride's patented Active-Trac Suspension and exclusive Mid-Wheel 6 Technology, providing you with a smooth and stable ride.
Not only that, these power wheelchairs push the boundaries when it comes to mileage and speed. With the lithium battery, you can travel up to 21 miles on a single charge, and reach top speeds of up to 5.1 mph.
Jazzy Air 2 Power Chair
With its unique captain's chair seat that can be elevated up to 12 inches, you can now meet eye to eye with your friends and family. 
But that's not all - the Jazzy Air 2 offers functional benefits too. Suddenly, countertops, cabinets, clothing racks, and upper shelves at the supermarket are within your reach. No more struggling to grab things or asking for help!
Plus, this power chair is built to handle your needs. With a weight capacity of up to 300 pounds, you can trust it to support you. And thanks to its maximum battery life, you can go up to 15 miles at 300 lbs. or up to 16.6 miles at 220 lbs. on a single charge.
Overview of Hoveround
Let me introduce you to Tom Kruse, the visionary behind Hoveround. 28 years ago, he turned his dream into a reality by creating power chairs that can navigate through tight spaces where others can't. These chairs give users the freedom to live independently and stay in the comfort of their homes.
Hoveround takes full responsibility for the quality and dependability of their products through their "Model of Total Responsibility." From manufacturing to design, delivery, and service, they have complete control over every aspect of manufacturing Hoveround power chairs.
What sets Hoveround apart is their unique Round for a Reason design, providing exceptional comfort and maneuverability. And their entire manufacturing and custom assembling process for every electric wheelchair happens right here in the U.S.A.
But that's not all. They go the extra mile by offering free delivery directly to their customers' doorsteps.
In addition to their power chairs, they also provide a diverse range of mobility solutions. You can discover the HoverGlide family of stair lifts, Hoverlift and carriers for easy transportation, wheelchair ramps, and other accessories.
Overview Pride Mobility
Whether you're looking for Jazzy Power Chairs, Go Go Travel Mobility, Pride Mobility Scooters, or Pride Power Lift Recliners, they've got the perfect solution for you. But it doesn't stop there - they also have Quantum Rehab, the industry leader in complex rehab power chairs, and Stealth Products, the top manufacturer of positioning components. This means they can offer you comprehensive options to enhance your mobility and improve your quality of life.
Headquartered in Duryea, Pennsylvania, they don't just operate in the United States - they're a global company, reaching customers all around the world. They carefully design, engineer, and test each of their products, incorporating the latest technological innovations.
Pride Mobility is also dedicated to making a positive impact in the world, one innovative product at a time. Their values of passion, giving back, humility, and putting people first drives their creative process to empower and enhance the lives of their customers.
Conclusion
As you can see, determining the right option for your mobility needs requires careful consideration. Yet, we hope that our in-depth comparison of Hoveround and Jazzy electric wheelchairs has helped make your decision process simpler and easier. 
With an understanding of the major differences between these two popular brands, you should now have a better idea which one more closely fits with your lifestyle. 
If you want more information to help you make the right decision, then we highly recommend you read our articles "The Ultimate Electric Wheelchair Buying Guide in 2023" and "Electric Wheelchair Versus Mobility Scooter: Which Is The Right Choice For You?".
Hopefully our article has helped you make the right choice for you!
What If I Don't Want A Hoveround Power Wheelchair?
Not sure if a Hoveround power wheelchair is right for you?
We understand. While they make great mobility chairs, there are plenty of other brands on the market that make amazing electric wheelchairs as well.
Here at Electric Wheelchairs USA, we believe in our customers making an educated purchasing decision…
… which is why we have a team of Mobility Experts standing by to answer your questions and provide you with options based on your needs, wants and budget.
So if you want to discover even more about what's out there, give us a call! 
Our staff can assist with finding the right wheelchair—helping ensure that comfort, mobility, and safety are all optimized for you or your loved one. 
Simply call us at 800-682-9444 today!
We look forward to learning how we can help uplift your life through the perfect electric wheelchair choice!