If you're seeking a reliable mobility scooter that can assist you with everyday activities, look no further than the EV Rider Auto Fold Plus 4-Wheel Mobility Scooter. 
This practical and stylish device gives you increased maneuverability to make your life easier and more convenient.
The EV Rider Auto Fold Plus 4-Wheel Mobility Scooter is a great option if you're interested in finding a reliable, dependable, and comfortable scooter! 
It offers features like hydraulic disc brakes, bright LED headlights for night-time navigation, and a sophisticated design with conveniently located controls. In addition to all these benefits, it folds up quickly so that it's able to fit into small vehicles.
We took it for a spin, and from its impressive features to its unparalleled comfort, this lightweight yet durable four-wheeler is sure to give any user an enjoyable experience.
On top of that, we will share some of our customer reviews of the Auto Fold Plus as well.
Read on to find out more about this user-friendly product along with its pros and cons!
Folding 4 Wheel Mobility Scooter
The EV Rider Transport AF 4W scooter is a sleek and convenient automatic folding scooter. With its 4-wheel design, LED headlights, and vibrant color options, it offers stability, safety, and style. It's lightweight and travel-friendly, with a 10-mile driving range. The height-adjustable tiller and contoured seat provide comfort and customization. Choose from Metallic Red, Jupiter Gold, or Sapphire Blue to showcase your personality.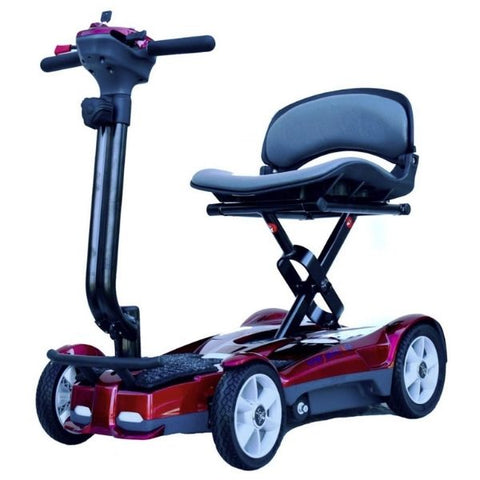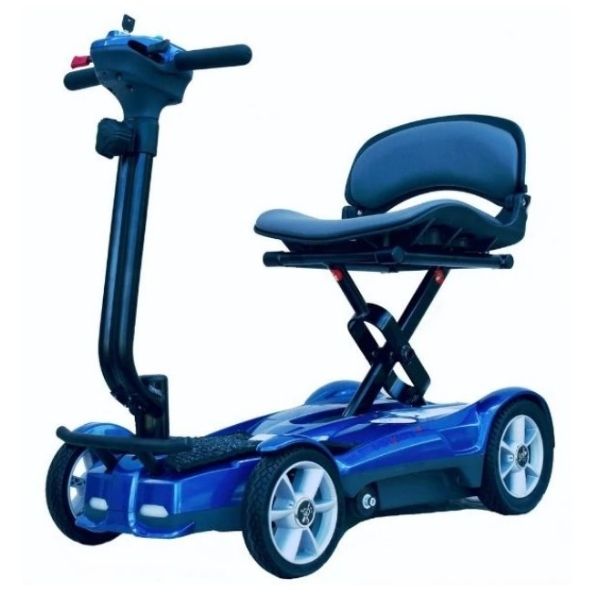 | | |
| --- | --- |
| Weight Capacity | 250 lbs |
| Maximum Speed | 3.8 MPH Max |
| Travel Range | Up to 10 Miles |
| Turning Radius | 39.4" |
| Ground Clearance | 1.4" |
| Overall Length | 33.5" |
| Overall Width | 18.3" |
| Overall Height | 33.5" max |
Exclusive Offer!
Get 20% Off + Free Cup Holder
Looking for a sleek and convenient scooter that fits your style? Then the EV Rider Transport AF 4W scooter might just be right for you! It's automatic, foldable, and comes in vibrant colors to match your personality.
With its 4-wheel design, you'll enjoy increased stability and a tight turning radius. Plus, the powerful LED headlights ensure a safe and illuminated ride.
Automatic Folding 4-Wheel Scooter
The ultimate convenience on wheels! This innovative scooter takes folding to a whole new level. With just a press of a button, it folds and unfolds on its own in seconds!
To unfold the scooter, simply position it with the rear wheels and anti-tip wheels on the ground. Then, press the release button on the scooter or on the remote for three seconds, and watch in amazement as the scooter automatically unfolds.
Folding up the scooter is just as effortless - just hop off the scooter, fold down the backrest, push the button for three seconds, and witness the scooter fold itself up like magic.
When folded, this scooter measures a compact 30" by 16.5" by 16.5". It's a rarity to find scooters that can fold automatically, making the EV Rider Transport AF our top-selling folding scooter.
Experience the ultimate convenience and freedom with the EV Rider Transport AF 4W scooter - the scooter that literally folds itself!
Your Perfect Travel Scooter
Looking for the perfect travel mobility scooter? Look no further than the Transport AF 4W! This compact and incredibly lightweight scooter is designed to make your life easier, especially if you have limited mobility. Weighing just 51.8 lbs, including the batteries, it's super easy to transport.
No need to worry about fitting it in your car trunk or bringing it on a flight or cruise ship - the Transport AF 4W is ultra-lightweight and travel-friendly. Plus, its tight turning radius means you'll have excellent maneuverability, even in tight spaces.
Don't be fooled by its lightweight design, though. This scooter has a sturdy frame with a load capacity of 250 lbs. So you can count on it to support you comfortably.
Granted, this mobility scooter does have limitations when it comes to carrying around personal items. Without a dedicated storage space, especially one that's lockable, you will need to find another way to carry your valuables around.
Up to 10 Mile Driving Range
It's got power thanks to its 11.5AH lithium batteries. Plus, you can zip around at a top speed of 4 miles per hour and travel up to 10 miles on a single charge.
No worries about flat tires, because the 8" rear and 7" front solid tires are built to last.
And with a 1.4" ground clearance, you can effortlessly navigate on flat surfaces.
Oh, and don't forget the dual-LED front lights to keep you safe during those nighttime adventures!
Height Adjustable Tiller
With its fully adjustable tiller, you have total control over the height that suits you best. Just loosen the knob, effortlessly raise or lower the tiller to your desired position, and tighten it back up.
Voila! You're ready to hit the road in style.
And that's not all - the tiller also comes with a convenient controller featuring an on/off switch, speed adjustment, and a battery indicator. Stay in control and stay informed about your scooter's performance as you cruise around town.
But wait, there's more! The EV Rider Transport AF 4 Wheel scooter also includes a warning horn for added safety. So not only will you be riding in comfort, but you'll also have peace of mind knowing that you can alert others if needed.
Contoured Seat
With its contoured seat, you'll feel like you're floating on air as you cruise around.
Worried about slipping? Don't be!
We've got you covered with a luxurious carpeted footboard for extra safety and comfort. And for those moments when you need to relax and stretch your legs, our footrest bar extends beyond the tiller, giving you all the legroom you desire.
One issue with this mobility scooter is the lack of armrests. So if you struggle to keep your arms level, then you might need to look at another mobility scooter option.
Choose Your Ideal Color
Want to stand out from the crowd?
Choose a bold, vibrant color for your ride.
With the EV Rider Transport AF 4W, you have the option of Metallic Red, Jupiter Gold, or Sapphire Blue.
Imagine turning heads as you cruise by in your brightly colored scooter. But that's not all - impress your friends with the automatic folding feature that they've never seen before.
Get ready to showcase your personality and leave everyone in awe.
Conclusion
All things considered, the EV Rider Auto Fold Plus 4-Wheel Mobility Scooter has essentially everything a user requires from a dependable and comfortable mobility scooter.
Its impressive features, including hydraulic disc brakes, LED headlights, and its stylish design make this device an undeniably valuable and enjoyable product to use for everyday activities.
With its lightweight yet durable frame and foldable design, this scooter is sure to fit right into your lifestyle with ease.
So if you're considering purchasing a reliable four-wheeler that will make your everyday tasks easier and more convenient, then take a look at the EV Rider Auto Fold Plus 4-Wheel Mobility Scooter!
To learn more about this device along with details such as financing options, check out the product page today!
Or, if you prefer to speak to a mobility expert from our team, then they can answer any of your questions and help you with the purchasing process as well.
Simply call us toll-free today at: 800-682-9444