Are you living with mobility challenges and looking for a practical solution to help you get around?
Are you looking for a reliable, easy-to-use mobility scooter that will help get you around with ease? 
If you have a mobility challenge, finding the right scooter or wheelchair can be tough. You need something that offers not just comfort but also convenience and performance when you're out and about. 
With its universal appeal to all ages from kids to seniors, the EV Rider MiniRider Lite is an attractive choice for anyone with a specialized mobility need.
This lightweight option is ideal for those with mobility challenges who need a little extra assistance getting out and about. 
With its four wheels, this scooter offers stability without sacrificing maneuverability thanks to its tight turning radius. And weighing in at just 115lbs, it's lighter than other top mobility scooters, making it a breeze to transport.
In this review, we'll take a deeper look at this lightweight electric mobility scooter's features so you can decide if it's the best fit for your needs!
Lightweight 4 Wheel Mobility Scooter
The EV MiniRider 4 Wheel is a high-performance mobility scooter with a 15-mile range and a weight capacity of 275lbs. It offers a comfortable seat, easy charging, and a stable design. However, it lacks adjustable armrests and has a limited battery warranty.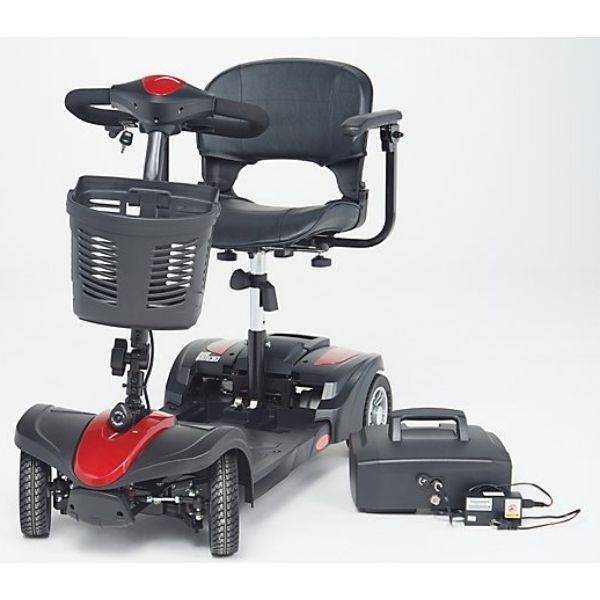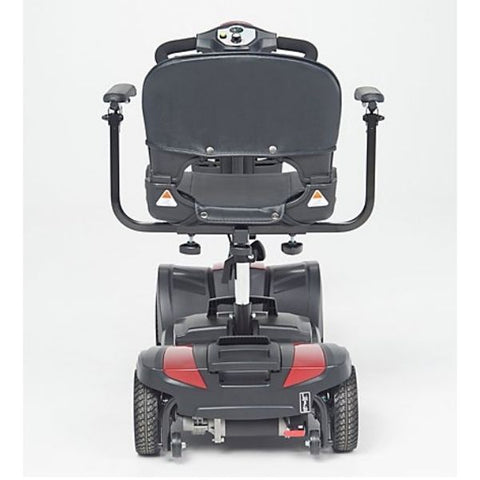 | | |
| --- | --- |
| Dimension (L x W x H mm) | 1080 x 480 x 910 mm |
| Weight w/i battery | 42.8 kg / 92 lbs. |
| without battery | 33.6 kg / 72.2 lbs. |
| Battery | 12 AH (option 20AH) |
| Charger | 2A Off-Board |
| Front Tire | 200X50 PU TIRE |
| Rear Tire | 200X50 PU TIRE |
| Seat | Fish on seat |
| Top Speed | 4 mph / 6.4 KPH |
Exclusive Offer!
Get 20% Off + Free Cup Holder
The EV MiniRider 4 Wheel is an incredible mobility scooter with a remarkable operating range. Ideal for all-day events and long trips, this scooter allows you to travel up to 15 miles on a single charge.
Surprisingly, this range is even better than what you'll find in many high-end power scooters. And when it's time to recharge, it only takes between six and ten hours to fully power up the battery – a standard charging time.
Made For Transporting
Not only that, but this scooter also boasts a weight capacity of 275lbs, allowing you to carry extra items with ease. Plus, with a top speed of 5mph, it's one of the fastest models out there.
So, whether you're going for a leisurely cruise or embarking on a long outdoor adventure, the EV MiniRider 4 Wheel is a fantastic choice. With its impressive range, high weight capacity, and speedy performance, you'll have a blast on every ride.
Comfortable Seat & Easy Charging
Get proper support and comfort with the deep seat cushion of the EV MiniRider 4 Wheel scooter. While it requires some upper-body strength to steer, its standard handle makes it easy to maneuver.
However, one downside is that it lacks adjustable armrests, which can be useful for customizing the scooter to your height and weight.
The scooter weighs a total of 115 lbs when it's fully assembled. However, each individual component is much lighter, with the heaviest one weighing only 37lbs. So, even though it may seem heavy when put together, it's actually not too bad to handle each part on its own.
This means that most riders should have no trouble assembling and transporting this portable scooter. It's a fantastic choice for anyone looking for a scooter that's easy to take with you on the go.
Quality Design & Craftsmanship
Looking for a stable and reliable 4-wheel mobility scooter? Look no further than the EV MiniRider 4 Wheel!
Its low ground clearance ensures stability when getting on and off, giving you peace of mind. Though it excels on flat surfaces, it's important to note that it may not be suitable for rough terrains. So, if you're planning on taking it off-road, make sure to choose the right path to avoid any damage.
You won't believe how maneuverable this mobility scooter is, despite having four wheels! With a turning radius of just 35 inches, you can easily navigate tight corners at home or in a store. Plus, it can handle steep hills and ramps with ease thanks to its recommended incline of up to 10 degrees.
And don't worry about getting a flat tire, because this scooter comes with solid tires that are worry-free.
In terms of warranty, the EV Rider 4 Wheel offers a standard coverage compared to high-end mobility scooters. The frame is covered for three years, while the drive train and electronic components are covered for one year. Unfortunately, the battery warranty is only valid for two months after purchase, which is less than ideal.
Conclusion
The EV Rider MiniRider Lite is the perfect choice for those with specialized mobility needs. From its lightweight construction to its comfortable and maneuverable design, this impressive scooter offers an optimal balance of convenience, performance, and safety.
From its smooth acceleration and tight turning radius to its overall versatility and robust design, the MiniRider Lite has all the features you could want in a mobility scooter. 
With features tailored towards easy transport and assembly, it's suitable for a variety of ages who need a portable way to get around. Now that you know all the facts, why not check out the product page and financing options currently available?
See how easy it is to get rolling today and start reclaiming your independence!
And if you want our help in ordering your MiniRider Lite, then you can always give us a call toll-free at: 800-682-9444